Ideas for an Extended Honeymoon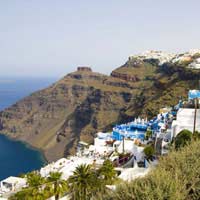 The traditional two week honeymoon is now being joined by shorter, budget-conscious 'minimoons' and longer, no expense spared breaks. If you've got the time and the budget for an extended honeymoon, we've got the imagination!
The American Dream
The chances are, with three or four weeks to spare, you'll want to visit more than one destination during your extended honeymoon. In this scenario, the bigger the budget, the better – you can tailor-make your honeymoon to suit yourselves. Ask yourselves if there's a place you've always wanted to visit that always seemed too vast for the traditional two week holiday.
How about the USA? There are some great fly drive packages available that allow you completely suit yourself as you discover some of America's most diverse and famous sights. Alternatively, why not combine America with Hawaii for a complete contrast.
Hop it
If you'd like to take things at an easier, more laid back pace then the Greek Islands might be a good choice for your extended honeymoon. Island hopping does require a degree of flexibility since you'll need to tie in with local ferry times and adapt to any changes, but a honeymoon like this is truly magical. No two Greek isles are the same, and some have escaped the ravages of tourism completely.
From buzzing resorts to tiny hidden gems, with so many islands to visit, you'll be able to lose yourself in the Greek way of life for weeks. Take a look online for some suggested combinations and link more than one together to tailor your perfect extended honeymoon. Better still, arm yourself with a little local knowledge and devise your own trip.
Cruise Control
Taking a cruise is lovely way to spend an extended honeymoon and visit a variety of different destinations in one holiday. With an array of activities onboard and a new view every day, this is a fantastic option for your shortlist. Cruising is relatively inexpensive at the moment and more and more travellers are setting sail for a totally relaxed luxurious break. Spend three weeks cruising the Far East, or take in the stunning islands of the Indian Ocean; there are many routes to choose from, and you can be as active or as laid back as you like. If you really want to blow the budget and get away for a good few months some fleets will even take you round the world in the lap of luxury.
City and Sand
If your idea of the perfect extended honeymoon is three or four weeks flat on your back, but your significant other prefers to be up and doing, why not combine the two. A city and sand holiday offers a mix of exploration and relaxation, satisfying both requirements in one memorable break.
From Las Vegas and New York to Palm Springs and Florida, America is a fantastic place to spend a honeymoon like this. Elsewhere why not combine bustling Paris with beautiful Provence, or historic Rome with the stunning Italian Lakes? Spain would also be a great choice, perhaps combining Barcelona with the Balearics, or Cordoba with the Costas.
From cruising to backpacking and everything in-between, with a few weeks to spare for your extended honeymoon, the world really is your oyster. The holiday of a lifetime is out there waiting for the two of you to discover together, and treasure forever.
You might also like...