Making Your Honeymoon Extra Special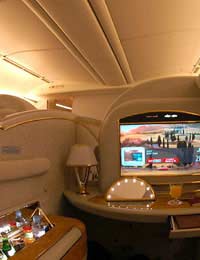 A honeymoon will always be a holiday to remember as you jet off somewhere incredible to mark the start of your married lives together. With a bit of creativity and organisation, and a healthy injection of cash, there are lots of ways to make your honeymoon extra special for you both. Read our guide to some of the best tips to getting your honeymoon started in a wonderfully romantic way.
First Class Treatment
Unless you're very lucky you won't get up out of an economy class airline seat feeling particularly comfortable or refreshed. To ensure you arrive at your destination looking and feeling great, upgrade your flights by at least one class – ideally to first. With flat beds and personal service, many airlines offer beauty treatments and a bar where you can get your honeymoon started in style. Upgrading isn't cheap but you'll certainly get what you pay for.
Lounging Around
A relaxed travelling experience starts well before you board the plane. There's nothing calming about the hustle and bustle of an airport departure lounge, with crying children and frustrated adults packed in like sardines. Avoid this experience by gaining access to the airline's VIP lounge, where you can enjoy a much more serene wait for your flight away from the masses. This is a really special way to start your holiday, so don your shades and see if you can spot any celebs nearby.
Room and Board
You might not plan to spend much time in your hotel room on your honeymoon, but that doesn't mean it shouldn't be an amazing place to wake up. If you can afford it, upgrade your room to a suite or junior suite and enjoy extra space and facilities, like a separate living room and an extra bathroom. Make sure you unpack properly and store away your luggage so you don't spend your honeymoon falling over your suitcases and rummaging around for creased clothing.
Private Dining
There are few moments more special than dining at the water's edge with little waves lapping at your toes. Telling restaurant staff that you're a honeymooning couple will open many doors for you, and should at least get you the best seat in the house. Don't be afraid to ask - you never know what riches await! Splash out on the best restaurants, even making your reservations before you leave the UK to save time and effort on your honeymoon. It might seem like something you can leave until you get there but if there's a restaurant you really want to visit it's well worth thinking ahead.
Finding ways to make your honeymoon extra special is a very personal thing, but these easy tips will enhance any honeymoon experience. If you happen to be a new groom, why not make a great impression by organising some of these experiences ahead of time to surprise your bride – all it takes is a phone call or two and a little imagination. Start married life as you mean to go on!
You might also like...