Planning a Surprise Honeymoon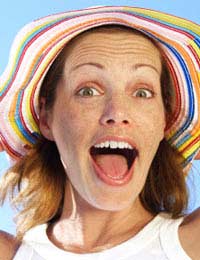 Honeymoons are usually a joint decision, with many romantic destinations being mooted before a decision is made. However, if your partner is happy to let you lead the way and book a surprise honeymoon, then you are going to have to cover your tracks extremely well to not give the location away!
Planning
The most important rule when planning a surprise honeymoon is to make sure you choose a destination you are both going to enjoy! It might sound obvious, but if it's been your lifetime dream to travel to Egypt, see the pyramids and cruise down the Nile, yet you know your partner would absolutely loathe such a holiday, preferring a fortnight in the Med, then it would probably be best to re-assess your choice!
Despite wanting to keep the final destination secret, making a short list of places you would both like to visit makes sense - that way, you can still have the surprise element but without any risk of disappointment!
Talk it Over
Talk in general terms about romantic honeymoon destinations you would both enjoy - what do you both really want from your trip - and what do you most definitely want to avoid? Are there key elements that must be included wherever you go - a spa perhaps, or access to certain sporting activities? If you are getting married in the autumn or winter, are both your hearts set on a sunshine break or would you both be happy with a winters sports resort? Think carefully about your options, and make a decision based on a lists of 'must haves' you have both compiled!
If your partner is happy for you to make the final decision, than have some fun with your mammoth task! Research places that you wouldn't automatically consider as honeymoon trip potential, and find off the beaten track resorts that will really be a surprise to your beloved!
Get Advice
Get your travel agent on side and ask their advice on planning surprise trips - certain romantic getaway locations might require the spilling of beans and you'll be wise to find out well in advance just how much information you will have to divulge to your partner! Obviously, if you are going to some far flung resort that requires vaccinations or malaria pills before you set off, you are going to have to reveal that as soon as you make your booking, but you may also need to ensure they pack the right clothes, or any specific items they might need for the holiday.
Documentation
You will also need to take charge of overseeing all the documentation and insurance you will need for your holiday, and again, that might be difficult to organise without your other half's knowledge - but never be tempted to withhold information on this element of your planning - better to let slip a few details to your partner than not have the correct policies to cover you for the extent of your trip.
Planning a secret honeymoon trip can be a stressful and time consuming activity, but get it right, and you'll be flavour of the month - or at least the fortnight!
You might also like...