Keeping in Touch With Family and Friends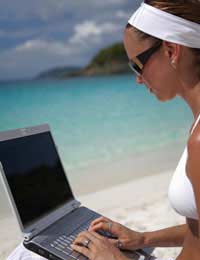 Long gone are the days when a rushed phone call and a dog eared postcard were the only contact you had with your nearest and dearest when honeymooning or holidaying - these days, friends and family not only want, but expect ecards and egreetings from your destination! And with internet access abroad and online and electronic communications being easily accessible, staying in touch is de rigeur even when you are on your honeymoon!
Something to Write Home About!
Perhaps the last thing you want to do is have a constant hotline to friends and family when you are on your dream honeymoon - if you truly want to get away from everything and everyone, and just enjoy each others company, then logging on to the internet, instant messaging, SMS-ing and generally going online throughout your stay might fill you with horror! But for all those newly-weds who do just want to enjoy their sun drenched love nest, there's another breed who thrive on keeping in touch and spreading the word about their honeymoon antics!
For some couples, having internet access abroad, accessing online services and keeping in touch with the folks back home will be an important consideration, and finding the easiest and most cost effective ways of doing so high on their list of honeymoon needs.
How to Do It
From sending simple emails, to ecards, egreetings, texts or electronic postcards, there are numerous ways to keep in touch with your loved ones whilst you are away, and give them a tantalising glimpse of your paradise retreat!
Emailing
Most tourist resorts will have an abundance of internet cafés so you can check your emails, and catch up with family and friends. If however, you wish to totally switch off from the hum-drum of life back home, and not get caught up in work issues, spam emails and round robins, then set up a special email account just for your honeymoon, and resist the temptation to log into your other inboxes for duration of your trip!
Social Networks
If you subscribe to social networking sites such as Facebook, you could use your account to provide simple one line updates to your friends and family to let them know you are OK and settled in your resort - or you could go the whole hog and upload photos and videos of your trip for everyone to indulge in back home! Or you could use the messaging or chat facility to keep in touch. Services like Twitter provide a microblogging service that lets you give brief SMS style updates either via your computer or mobile phone - great for keeping in touch on the go, and letting everyone know what you are up to!
Texts and Phone Calls
Unless you get a very good deal from your network provider, phoning back home from your mobile once you are abroad can work out a very costly exercise with most providers charging not only to make calls and texts but to receive them too. Do your homework before you go, and compare and contrast the cost of using your mobile to making your calls from your hotel or a payphone - or cut costs completely by simply using the internet to keep in touch for nothing.
You might also like...