Honeymoon in a Day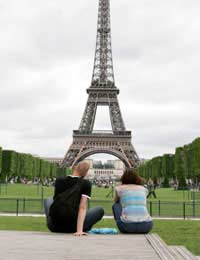 Honeymoons are changing as we all adapt to busier, more stressful lifestyles. Whether its time or money that constrains you, there's plenty of fun and romance to have with a honeymoon in a day. We've put together a few ideas to spark your imagination and create a very special day.
Parisian Perfection
Where better to spend a truly romantic day with your loved one than beautiful, chic Paris. Whether you hop on a plane or travel by Eurostar it's an easy, fast journey from London to Paris, and if you get up and go early and come back late, you can enjoy a whole day in the city of love. From exclusive shopping and romantic restaurants to superb museums and cultural sights, Paris does it all with bucket loads of style. Whatever appeals to you, you'll find it here in France.
High Tea in Town
If your idea of a great romantic day out doesn't feature queuing in airports or railway stations, why not stay here at home? A honeymoon in a day in this diverse city might mean taking an elegant afternoon tea at one of the exclusive hotels, or settling in to a stylish spa for the day. Alternatively, walk hand in hand through one of the beautiful leafy parks and take in a West End show. With an endless list of attractions and world class restaurants, a well-planned day out in London can be a match for any other city in the world.
By the Seaside
The UK is spoilt for choice when it comes to pretty coastal towns, from bright, bustling Brighton to quaint and quiet St Ives. A day by the sea can be a really romantic way to spend a quickie honeymoon, and the great thing about the UK is that you can find whatever you're looking for on your doorstep. Whether it's a long walk along a windswept beach, fresh fish and chips or all the fun of the fair, it's all just a drive away.
Irish Charm
Dublin has some excellent attractions and this must-see city is a superb option for a honeymoon in day. The Guinness Factory complex is not to be missed, even if you're not a fan of this traditional Irish booze. Also within easy reach are stylish shops and Dublin Castle, not to mention miles of stunning Irish countryside not far away. Always high on the list of super city breaks, Dublin offers a great blend of excitement and elegance, old and new.
Bustling Brussels
Belgium's capital city has enough to keep you busy for several days, but it's also easy enough to get there and back in one. While you're there this beautiful medieval city has much to offer, from beer tasting at the Cantillon Brewery to the beautiful Grand Place town square. With so much to see a bus tour is a good way to maximise your experience and these can be booked cheaply before you leave.
We often forget that we Brits are lucky enough to live within striking distance of many amazing countries, each with its own culture and personality. A honeymoon in a day gives you the chance to experience your own whistle-stop taster.
You might also like...