Some Action and Adventure Honeymoon Ideas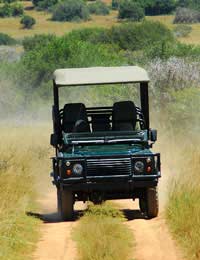 For some travellers, honeymoon's aren't all about white sandy beaches, candlelit dinners and his and hers hotel bathrobes! If you and your partner are craving some action and adventure post-wedding, then go for it with a real get up and go style break! Whether it's white water rafting, bungee jumping or even mountain climbing, there are plenty of holiday packages around guaranteed to thrill even the most hard to please adrenaline junkies!
Walking and Trekking Honeymoons
Probably the most gentle 'action and adventure' honeymoon you could choose, and a wonderful way to see the country! In the UK, consider the Peak District, the Lake District, the Devon and Cornish coastline or the Scottish Highlands for beautiful scenery, excellent tourist facilities and plenty to see and do.
For an overseas honeymoon for the experienced walker or climber, you could consider the Central High Atlas mountains (Morocco) - many tour operators organise treks and walking holidays to this magnificent mountain range, taking in the summit of Jebel M'goun in the M'goun Massif. Generally, your trip would involve camping out in the traditional Berber villages at night whilst trekking by day, and most operators include a few nights stay in Marrakech before flying home.
Ranch Holidays!
Embrace your inner cowboy (or girl!) with a fantastic Texan Ranch Honeymoon! From traditional cowboy experiences, to cattle driving holidays, you'll certainly have a honeymoon to remember with this sort of trip! Stay in a traditional, simple ranch, or push the boat out and opt for a luxury, purpose-built holiday ranch with pool and spa facilities - look outside of the state of Texas too - many companies offer ranch holidays across the whole US and Canada. But for that real cowboy-inspired, Tex Mex experience, the Lone Star state is the one to choose!
White Water Experiences
Rafting and kayaking are fast becoming popular vacation sports, and many tour operators have really stepped up their game and are now offering specific packages to far flung destinations, rather than just the usual Grand Canyon and US focused trips. If extreme water sports are you and your partner's thing, and you really want a honeymoon with a difference, check out packages to Japan (the Mighty Tone River is a popular rafting destination) Nepal (extreme white water experience - their turbulent waters come down from the glaciers of the Himalayas) or emerging destinations like Slovenia and Croatia, where particularly good deals can still be had.
Safari and Wildlife Trips
Safaris have been popular with honeymooners for decades - from private game lodges to 5 star hotels, there's a safari honeymoon to suit all tastes and budgets. Kenya is probably the most well known destination, with thousand of visitors flocking each year to see the wonderful wildlife the Masai Mara plains have to offer, from elephant herds to big cats. The Kenyan port and second city, Mombasa, is also a popular destination, with atmospheric bazaars, and winding streets steeped in history.
Desert safaris in North Africa, along the Sahara Desert and taking in Morocco and Tunisia are also fast becoming popular with honeymooners keen on adventure treks combined with city excursions.
You might also like...