Honeymoon Ideas with Kids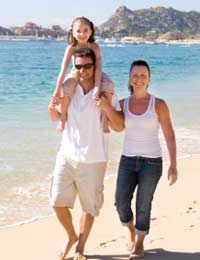 For couples who have been married before, or who already have children, a honeymoon just as a twosome might not be feasible - or even something they'd wish to do!
For many couples, there will be no option but to take their children away on honeymoon with them, and turn it into a fun family holiday.
And as honeymooning as a family group is becoming more and more prevalent, more travel agents are switched on to -and sympathetic to - the needs of newly weds who need a honeymoon suite with room for cots and travel systems (and a baby listening service!).
Practicalities
Working out the practical side of honeymooning with your children ahead of booking your trip will make for a lot less stress once you arrive.
Although you will still want to make your honeymoon an unforgettable experience, it isn't going to be the same having children in tow as it would be going alone, so keeping your expectations realistic will go along way to ensure honeymoon harmony for everyone!
Although you might want to spend the duration sipping cocktails by the pool, or having local massages on the beach, if you have youngsters with you, the chances are your time at the pool will be in the company of enormous inflatable's, endless trips to the ice cream bar, and constant reminders to reapply sunblock. And that's when you're not being nagged to play games, retrieve kites from trees and supervise toilet visits!
If you do crave some time alone, and worry how you'll keep the children entertained throughout your stay, investigate kids clubs and children's facilities as soon as you arrive at your resort - if you can offload the children just for a couple of hours or so a day in good quality, safe and suitable childcare, you can ensure your break is in keeping with a honeymoon rather than just a family holiday.
Better still, sort out your childcare arrangements before you even arrive at your resort - many children's provisions can be pre-booked with your travel agent.
Finding Family Friendly Honeymoon Destinations
Choosing your destination when you have children to take into account will take some forward planning and investigation. It is useful to have a clear idea of what you want from your honeymoon, and what sort of facilities will keep everyone happy and entertained.
Family friendly resorts will of course be full of other children and large groups - bear this in mind if you want your holiday to be a relaxing and romantic affair!
Getting recommendations from family and friends with similar aged children is always useful when planning a break with youngsters - just make sure you follow up their glowing reports with your own independent investigations - one size does not fit all, remember!
Worth Considering...
Fun resorts like Disneyland where there is entertainment for the whole family.
Family focused resorts like Centre Parcs.
Renting a country house or cottage and inviting grandparents too to help with childcare.
Spending your honeymoon with relatives overseas - especially if you have family abroad who could accommodate you and help out with childcare.
You might also like...