Securing Your Home While on Honeymoon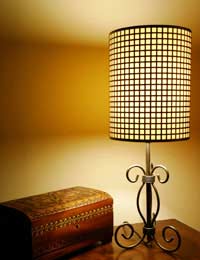 Honeymoon planning is a process that requires no detail to be left unchecked, and one of the less exciting aspects surrounds the security of your home while you're away on your dream holiday. Burglars tend not to have much of a conscience and with a house full of wedding gifts, you'll want to do everything you can to make sure you return to find everything's just as you left it. Our guide to securing your home whilst on your honeymoon walks you through some simple ways to avoid a break in.
Love Thy Neighbour
As newlyweds you'll probably be able to call in more favours than usual, so make use of all those good wishes by asking a neighbour to watch over your home while you're away. Make a mental note to bring a few gifts back from your honeymoon to thank any helpers. Asking someone to pop in every day to open and shut curtains and pick up any post is a great way to make your home look lived in and thus less inviting to an opportunist burglar.
Light Up
Simple time switch devices are widely available and provide an easy way to make it look like you're at home. Fix them up with lamps in various rooms and programme them to turn on and off at differing times. The key thing to remember with such devices is that you must leave the lamp switched on so that when the hour clicks round it's ready to engage with the timer. Simple but effective, a burglar will be a lot less interested in a home where people appear to be moving around from room to room.
Raise the Alarm
If you can afford it, a burglar alarm is perhaps the best weapon in the fight against robbery, and you should be able to get a good one fitted for a few hundred pounds. The benefits are obvious – your neighbours will hopefully hear the alarm and spring into action. Of course the downsides are that alarms can go off at will with electricity fluctuations, and they can often go ignored while everyone nearby assumes there's a false alarm. A good middle ground is a dummy alarm box – simply mount it on the front of your home as a deterrent.
Final Countdown
Just before you go away, remember to cancel any newspapers, milk or veg box deliveries scheduled to arrive while you're gone, or ask someone to take them in for you. You could also leave a car on the driveway, or let friends and neighbours know that they're free to use it for parking in your absence.
Securing your home whilst you're on your honeymoon doesn't need to be a hassle. At a time when you've probably had more than enough of planning and making lists, it's good to know that with the help of good neighbours and a few simple measures, your home will be in safe hands while you're enjoying the holiday of a lifetime. Relax and enjoy it.
You might also like...