Honeymooning With a Baby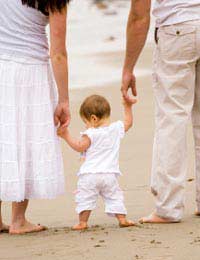 Honeymooning with a baby, whether you planned it that way or not, can be tricky and stressful, but there are ways you can make it easier on yourselves with a little forethought. Being selective when it comes to destinations and accommodation will ensure you have the relaxing break you always dreamed of.
Destination Unknown
When you're considering a honeymoon destination, think about places where children and babies are most loved. Italy is a good option here, as is France. Family meals last well into the evening and children are celebrated, rather than hushed. Also, and it probably goes without saying, aim for a destination where you'll have electricity and running water, and where everything is generally as easy as possible. Caring for a young baby is hard enough at home with creature comforts, after all.
Allocation on Arrival
Definitely avoid this! Instead search for accommodation where you know what to expect before you get there, and decide upon your minimum requirements before you book. Self-catering can be a great option providing you have the facilities you need to make your stay nice and easy. Otherwise, why not opt for a hotel with luxury at your fingertips. A restful stay for you will mean a more peaceful stay for the whole family. You may also find a good hotel will offer a babysitting service, too – though obviously it's a good idea to check out the necessary qualifications first.
Room with a View?
A good idea, wherever you're staying is to request a ground floor room so that you don't have to tackle lifts or stairs with a buggy every time you want to go out. Sure, you might not get your sea view, but the benefits will more than outweigh the disadvantages.
Inflight Entertainment
Travelling with a baby can be hard, both on you as parents and other travellers, as we'll all have experienced at one time or another. Being prepared means some copious list making, but remember that babies are resilient little things and so long as you remember the essentials, you'll be fine. Bear in mind the issue of travel sickness if you haven't travelled with your baby before. You'll be able to buy most things when you get to your hotel so don't feel you need to take all but the kitchen sink with you.
Romantic Liaison
If you take your baby on your honeymoon with you you're accepting from the outset that it won't be the romantic, devil may care tryst that it might have been had you been by yourselves. The chances are your honeymoon will be even more special as a threesome, with a totally different, but fantastic, dynamic. Anyway, babies sleep sometimes, don't they!
So there you have it – honeymooning with a baby doesn't have to be the major challenge you might expect. A bit of forward planning, a sense of humour and lots of flexibility will make for a great holiday. You'll probably find your new little family is the centre of attention more often than not, and that's a very special feeling.
You might also like...