Camping Ideas for Your Honeymoon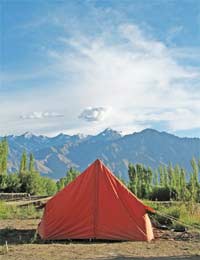 A honeymoon camping trip might not immediately appeal as the most romantic of destinations or type of break, but with a bit of planning and preparation, there's no reason why a gorgeously located campsite could not be as fabulous and enchanting as a five star hotel!
Camping, especially in Britain, is usually synonymous with soggy canvas, wet grass and muddy shower blocks! Some newly weds might question why anyone would want to endure that on the most important holiday of their lives! Yet camping is also one of the most popular types of holiday for all different types of groups, from youngsters through to the older generation.
Its appeal could be in its organicness and sense of freedom - the opportunity to get back to nature, or in its simplicity, and, for the most part, relative value. But would a honeymooning couple really want to be pitching tents in pouring rain, cooking bacon over a campfire, or queuing endlessly for a ramshackle toilet block?
For some, probably not, and that's where the new breed of 'boutique' style campsites with pre-erected tents would fit the bill! For a honeymooning couple who don't want to go the Boy Scout route, they could be an idea solution!
Why Camp?
If completely getting back to nature is your thing and you want your camping honeymoon to be a real earthy, traditional affair, then all you need is some basic equipment and a good site. Many campsites or holiday parks offer different areas of camping for different groups - for example, specific fields for families with children, or quiet fields for those who want silence and peace after 9pm!
Choose a site that will give you the freedom to do what you want to do - if that means drinking champagne outside your tent at midnight, or listening to music after dark, make sure your pitch allows you to do so - otherwise you could find your honeymoon evenings curtailed as soon as night falls and silence reigns!
Destinations
Most areas of the UK - and indeed, throughout Europe, have excellent camping sites and holiday parks - popular destinations like forestry commission sites and camping sites within the national parks and in the grounds of stately homes etc. get booked up far in advance, so do your homework and get your pitch booked as soon as you can!
What You'll Need
Unless you elect for a fully equipped and ready erected tent on a holiday park, you are going to need some basic equipment for your trip! Depending on what your own individual requirements are, a basic tent and cooking stove will see you through a short trip or weekend away.
If however you are planning a longer stay, or perhaps travelling around between campsites, you might wish to splash out on some more high end equipment. Take advice from the camping shop specialists if you are a novice - and make sure you have some trial runs at putting up your tent before you set off for that first night under the stars!
You might also like...