Honeymoon Cruise: What's Included?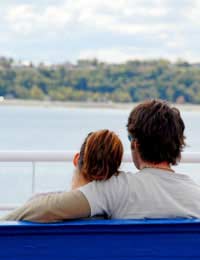 Romantic honeymoons surely can't come any more idyllic than a honeymoon cruise - and if you are in the midst of planning your honeymoon trip, then cruising should definitely be on your 'to seriously consider' list!
Can't Cruising Be a Bit Monotonous?!
Definitely not! And particularly as far as honeymoons are concerned, it can be the most prefect setting, combining tranquillity, entertainment, interesting ports of call, with that all so important ability to shut yourself away from it all in the the privacy of your own cabin! Whether it's a bespoke package, or an all inclusive deal, a cruise can be the perfect way to celebrate your marriage!
From on-board dinner dances, top notch restaurants, casinos and nightclubs, you won't struggle to be entertained on a large cruise liner. Smaller ships will offer less variety, but nearly all cruises will have a wealth of activities and attractions to keep you entertained throughout your passage!
For those honeymooners looking to chill and relax, choosing a cruise that will offer plenty of sun seeking on the decks, luxurious spa facilities and on-board massages and treatments will ensure a memorable, unwinding experience and a very romantic honeymoon!
I Always Thought Cruises Were for 'Older' Couples!
Cruises are for everyone - the key is, picking the right cruise for your honeymoon trip! Look for a cruise company who specialise in wedding and honeymoon packages (you could even consider holding your wedding on board ship!)and work with your trip advisor to plan the right deal for you and your partner. Many companies offer special packages for honeymooners, with special extra treats like dinner with the captain, a champagne reception and honeymoon cruise certificates.
Ask your travel agent who the cruise you are interested in generally appeals to - if it is more popular with families and children, for example, you may wish to track one down that caters more for (or even exclusively for!) couples or wedding parties.
Where to Cruise to?
The Caribbean and Bahamas? The Mediterranean? The choice is yours! From transatlantic and world cruises, to the delights of the Greek Islands, Hawaii or the Canaries, you are truly spoiled for choice with your cruise destination. For something different, consider a cruise of the Norwegian Fjords and the Baltics, taking in such delights as Copenhagen, Stockholm, Helsinki, St Petersburg, Tallin and Gdansk.
Is it all very formal?
Although many cruise ships will have their own rules and regulations with regard to their formality - many ships will have black tie events where evening dress will be expected, others will expect no more than 'smart casual' attire whatever the occasion. Check before you leave what the various dress codes are, so you can pack accordingly!
Cruise Essentials
Make sure your cruise offers everything you would want from a regular holiday - ensure you will have enough facilities to keep you entertained on-board, and long enough ports of call to allow for free time and exploration.
Pack well! Find out the dress code for your cruise and take a good range of outfits to cover all those dances and dinners at the captain's table!
Make sure your cruise is geared up for honeymooners - if your cabin is on a deck filled exclusively with family groups your trip might not be as relaxing as you'd like!
You might also like...