No Spend or Inclusive Honeymoon Packages: Not Included?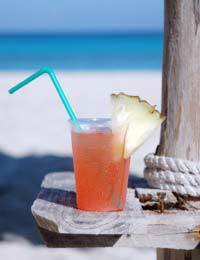 An all inclusive honeymoon sounds, in theory, like a brilliant idea - everything paid for in advance, no endless searching for cash points, or rooting around for change - but is it always so good in practice? What isn't included? What are the pitfalls?
Why Choose All Inc?
An all inclusive package could suit you for many reasons - perhaps you have found a gorgeous hotel complex that has everything you need on site - spa, pool, evening entertainment, etc - and you don't want to have to seek out restaurants every meal time. Perhaps the cost of dining out locally is prohibitive, and the all inclusive package offers spectacular value, or maybe it's the lure of the all included drinks and activities that tempts you away from paying as you go.
And When Not To...
If fine dining and trying out exciting new cuisine and general gastro delights are a big part of your holiday experience, or if you like to simply use your resort as a base from which to explore and discover the surrounding areas, then an all inclusive deal probably isn't for you.
What's the Deal?
Generally, the cost of an all inclusive honeymoon will include your accommodation, drinks, meals, snacks and entertainment and activities.
Meals on all inclusive packages tend to be buffet style, often using local produce and consisting of regional specialities. Alcoholic drinks also tend to be locally sourced and produced.
It is imperative to check reviews of your chosen resort and package - generally, one of the biggest complaints reviewers make about all inclusive deals is the quality of the food - if you pay for a complete deal but find you need to eat out due because you can't tolerate the meals provided, your holiday will costs will rocket.
Activities and entertainment will of course vary from resort to resort, package to package, but if specific things to do on site (a gym, for example) and evening cabarets, dances etc. are important to you, check with your tour operator before you book. Similarly, if you are looking for peace and tranquillity, consider the implications of enduring other holidaymakers on inclusive packages combined with late night entertainment and all-in booze!
What's Not Included?
When you book your all inclusive holiday, you should be given a comprehensive breakdown of exactly what is included in the package. If you are not, ask for one, and ensure you are quite clear as to what you will receive for your money.
Your check-list could include:
Bottled water - is it included? (often bottled mineral water is excluded from 'all soft drinks included' packages)
Alcohol - is included wine/beer all local? (Don't expect to find your usual brand of beer or wine in the resort)
Snacks - when are they served and what are the restrictions? (You might find that 'unlimited snacks' are only served twice a day)
Entertainment and Activities - Off peak or full access? (Check when you can use your all-in facilities - all day or only at certain times?
In many cases, all inclusive packages offer fantastic value for money, and take the hassle out of holidaying - so for a stress free honeymoon, they could be the ideal solution, but only if you do your research beforehand!
You might also like...