How to Get Through a Long Haul Flight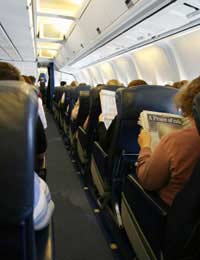 Starting your honeymoon with a long haul flight is an exciting indication that you're bound for an idyllic destination in a far-flung piece of paradise. As a newlywed you'll want to arrive in honeymoon bliss in style, so to avoid that puffy, groggy just-off-a-plane look, follow our tips for getting through a long haul flight.
Synchronise Watches
As soon as you board the plane set your watch to the local time in your honeymoon destination. This is a great way to help with jetlag, since you'll be mentally and physically preparing yourself ahead of time for the change in time zone. If it's night-time there, try to go to sleep so that you're better adjusted when you arrive.
Drink Up
Staying hydrated is the key to feeling alert and arriving at your honeymoon destination ready to enjoy yourself. You'll probably want to avoid getting up to use the toilet on the plane every five minutes, so make sure you drink plenty of water the day before you fly. While in-flight sip water regularly and avoid alcohol and caffeine. These will dehydrate you, causing tiredness, headaches and that general feeling of travel-weary grogginess.
Drift Off
Unsurprisingly one of the best ways to get through a long haul flight is to sleep. A long journey to honeymoon paradise is a great time to catch up on the shut-eye you'll undoubtedly have missed during your wedding period, and will recharge your batteries following the wonderful but stressful months of planning. Browse the in-flight entertainment – many airlines offer audio meditation programmes to lull you into a peaceful sleep. If it's the constant drone of the plane that keeps you awake, buy some noise cancelling headphones before you fly; they really do make a difference.
Dress Down
While the likes of Victoria Beckham can happily totter off a long haul flight in three inch heels and skinny jeans, we mere mortals are better off sticking to comfy clothes and slouchy shoes. To avoid being cut in two by waistbands and tangled up in twisted seams, don't wear anything you wouldn't be happy sitting in for hours at a time at home. Layers are best so that you can adapt to the temperature onboard. Your feet will thank you for slip-on flat shoes that forgive any in-flight swelling. However high-fashion your outfit, arriving at your honeymoon destination looking crumpled and constrained is not a good look.
Walk On
It's important to bear in mind the health risks associated with long haul flying. Take regular walks up and down the plane when you can, and remember to give your legs and feet a good wriggle in-between. The airline safety precautions should give you some useful tips to keep your circulation working well and it's a good idea to take note. By staying as active as possible you'll also help to avoid puffy ankles on arrival at your honeymoon destination.
Armed with these simple tips and a stack of books or magazines, getting through a long haul flight will be easy. We don't get many opportunities in life to do absolutely nothing, so look forward to having 'me time' to plan and think, to remember your big day and look forward to a heavenly honeymoon.
You might also like...