Most Romantic Honeymoon Destinations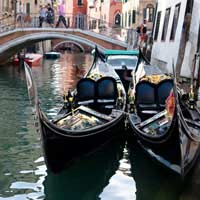 Although the notion of romance will vary from couple to couple, there are some places in the world, whether steeped in history or oozing style, that just seem to capture the mood. We highlight some of the most romantic honeymoon destinations and find you a place to fall in love all over again.
Italian Inspiration
Italy is a great choice for a honeymoon, whether you're thinking of a romantic Venetian city break, a wander around Rome or some time relaxing at one of the beautiful lakeside hotels. Head to the Amalfi Coast for cosmopolitan style, or why not hide away in the countryside of Tuscany in a villa for two. Puglia is a stunning area becoming more popular; and Sicily's historical capital, Palermo is the perfect place to soak up some old Sicilian charm.
Go Bahamas
Be proud of your British roots with a trip to the Bahamas, where cricket is the passion and rum is the poison. Luckily, the weather is distinctly Caribbean, with white sands lapped by clear blue waters under a warm sun. You'll never be short of things to do here, as modern luxury has truly moved in, but if it's peace and solitude you seek, why not steer clear of the big hotels and rent a villa instead?
Love Prague
You might think Prague is more suitable for your hen party than your honeymoon, but Gothic romance abounds in this city, and it's particularly scenic during the winter months, when snow falls and Christmas markets move into the old town square. A hand-in-hand stroll across the Charles Bridge is a real treat, and make sure you visit Prague Castle, stunning when lit up at night.
Sardinian Splendour
Mediterranean sunshine beams down on a honeymoon in Sardinia, where you'll find your own private piece of romance in one of the many inlets around the rocky and dramatic coastline. Sardinia has some beautiful beaches, and if you love seafood, this is the perfect honeymoon island for you.
Marvel in Morocco
A honeymoon staying at a Moroccan riad is the very idea of North African romance. A riad offers an opulent hideaway, the perfect contrast to the hustle and bustle of the Moroccan Medina. Whether you opt for the capital, Marrakech, or head to the coast for a stay in Essaouiria, Morocco will capture your heart with its colours, scents and amazing food.
Hawaiian Tropic
Hawaii really does have it all, as each of the six holiday islands offers something different. For romance, head to Lanai or Kauai; or if you live for luxury try Oahu for larger than life hotels and a vibrant atmosphere. Hawaii's Big Island is something of a natural wonder, boasting snowy mountains, rainforests and beaches; along with an active volcano. The warmth of the Hawaiian people is said to draw visitors back again and again.
Feeling inspired? Whatever your idea of a romantic honeymoon, and whatever your budget, these amazing destinations will not disappoint. Splurge in the Bahamas or save in Italy, romance does not need to break the bank!
You might also like...