Information on Long Haul Honeymoons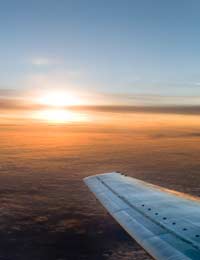 Deciding to travel long haul for your honeymoon opens up a huge array of options for your final destination – with so many magical places to choose from, the world is literally your oyster! And, for just a little extra expenditure, you can add another exciting dimension to your trip if your long haul flight includes a stopover and the opportunity to grab a few bonus nights in another city! So what are you waiting for – get yourself honeymooning for the long haul!
What Constitutes Long Haul?
Thomas Cook define a long haul flight as being seven hours or more in duration, but other carriers and travel agents state six hours.
Where to Go
If you are splashing out on a long haul flight and a stopover, then you are truly spoiled for choice as far as your destination goes. If you're looking for sunshine, culture, luxury hotels, sights of historical interest, or just a really relaxing, get away from it all location, you literally have the world at your fingertips.
Dream Destinations
Perhaps you have a dream destination you have had a lifelong desire to see - the pyramids of Egypt perhaps or the Wild West. Maybe you have always wanted to visit American and do one of the famous driving routes, Route 66 from Chicago to Los Angeles for instance, or perhaps along the beautiful Florida Keys from Miami to Key West. Or maybe you just wish to chill out in guaranteed sunshine and an exotic location like one of the Caribbean islands. Or perhaps you want to go really long haul and spend your honeymoon travelling around the sights of Australia or New Zealand.
Honeymoon Specials
Most general long haul holiday hot spots make for perfect honeymoon destinations - from the Americas to the Far East, as long as your tour operator is aware of your special status, you are sure to enjoy additional luxuries and bonuses as part of your package. Most travel agents have special deals for honeymooners, and long haul trips are no exception. Occasionally you will be asked to prove your newly wedded status, so be sure to take your wedding certificate with you when you make your booking!
Stopovers
If the thought of a single long haul trip to one destination doesn't float your boat, or you are taking an extended holiday, perhaps three or four weeks, speak to your travel agents about long haul stop overs - Mauritius for example is a well used stop over destination for flights to Australia, as are Bangkok, Singapore, Honk Kong and Tokyo. For trips to New Zealand, you could have a mid journey break in Dubai or even Los Angeles or San Francisco.
Your Trip of a Lifetime...
As you are more than likely to put more money, time and effort into your honeymoon planning than any other holiday you subsequently take, pushing the boat out and heading off to your dream long haul destination should be a fun and unforgettable experience - plan and prepare well in advance and make it a truly exception trip.
You might also like...