What to Pack For Your Honeymoon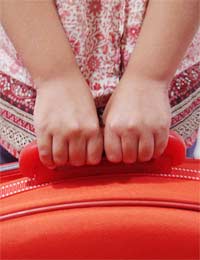 When packing for your honeymoon, the temptation to over stuff your bags will be immense, but stick to your guns - and your honeymoon checklist - and keep those suitcases (and excess weight fees!) to a minimum!
Unlike any other holiday you've ever been on, your honeymoon will undoubtedly come with all kinds of pressures and worries that you would never have considered on any other trip.
With cameras and camcorders capturing (almost!) every moment to share with the folks back home, you'll be wanting to look your absolute best at all times - and that can lead to all kinds of wardrobe woes and packing case panics!
Drawing up a packing checklist is the best way to keep your suitcase content under control. Plan your outfits based on what you are going to be doing - and be realistic - if you are going on safari you are highly unlikely to need three pairs of high heeled sandals in your suitcase!
What To Wear
Going through your holiday itinerary alongside your packing list will give you a practical overview of exactly where you are going and what you will need. For walking, sightseeing and tours, comfortable shoes are obviously a necessity. In hot climates, loose, cotton or linen clothing will keep you cooler than strappy, skin exposing tops and shorts. And pay heed too to the religious and cultural beliefs in the country you are visiting - covering up shoulders and legs may be necessary when visiting certain buildings.
A beach holiday will obviously require a range of swimwear and beachwear. Again, pack to cover every eventuality - pick a range of bikinis and swimsuits that will take you from sunbathing to serious swimming, and preferably styles that can be comfortably worn under shorts or a sarong for those trips to the beach bar or cafe.
For city breaks, or just day trips and excursions to large towns, pack 'non-touristy' outfits - standing out as a tourist can make you an easy target for pick pockets and opportunist thieves, so leave the bum bags and obvious holiday wear back at the hotel! Jeans and plain t-shirts are stylish the world over - take a dressy, dark wash pair to see you through those shopping trips and town visits!
Accessories
Careful and fun accessorising can double the life of an outfit, so instead of packing several similar looking evening dresses or smart day wear, simply ring the changes with scarves, shoes, belts and costume jewellery - not only will they brighten your look, but they'll take up less space than extra clothes!
Electrical
If you rely on your straightners or tongs everyday at home, then you are going to want them on your honeymoon! If you have beauty items that you use regularly, don't try and scrimp on packing by not taking them - if you feel self conscious or worried about aspects of your appearance because you haven't got all your usual kit with you, it will have an effect on your entire trip! Far more sensible to cut back on the amount of clothes you take than the equipment you deem 'essential'!
Do Not Forget...
It's easy to overlook the most obvious things when getting ready for your honeymoon! Print off and keep this handy check list to assist with your honeymoon packing:
Enough bikinis/swimsuits to cover your trip
Sun hat, scarves or bandannas
Beach shoes or flip flops
Sarongs, cover ups, beach bag and sun glasses
Underwear for duration of your stay
Flat shoes for walking, dressy shoes for evenings
Jeans and plain shirts or t shirts for city excursions
Little black dress for dinners and nights out
Accessories - scarves, belts and costume jewellery
Electrical equipment - straighteners, tongs, hair-dryers, Lady Shave, adapters and chargers
Holiday documentation, passports, insurance documents, travel itinerary.
Medical supplies and contraception
Digital camera, camcorder, mobile phone, batteries and chargers.
Cosmetics and toiletries
You might also like...